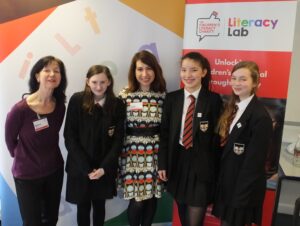 Christine was part of a group who spoke at our literacy conference
Christine is a student at The Knights Templar School. Having been a Reader in Years 7 and 8, she is now in Year 10 and a Leader herself. Here's what she has to say…
"Before taking part in Reader Leader, I was not confident at all. I struggled with my homework and got no enjoyment from reading. Long words were a challenge to me. Through being a Reader, my confidence grew. My Leader was really nice. She showed me how to break up long words. I started to read in my spare time. In both the short- and long-term, it has definitely helped with my school work. This year (Year 10) I have moved from a middle to a higher set in Maths and English and I have achieved target grades in all my subjects.
Now I'm a Leader myself, I've really enjoyed getting to know students in different year groups. I've supported several readers and found each one different so I've had to adapt my approach. I've found that getting to know each Reader is really important so that I can help them choose books they might enjoy reading. Reading a book with someone gets you connected – you have something in common.
It's true what my teachers said – being a Leader has pushed me with my reading even more. Discovering that I am capable of being a Leader has helped me to believe in myself. I've also really enjoyed hearing about other people's reading preferences and being introduced to different genres – it's encouraged me to widen my reading. And since I've become a Leader, my younger brother is looking up to me and is reading more.
I'd advise anyone starting Year 7 who isn't a confident reader to take part in Reader Leader. You may not think it's worth it, but you will see it is. It will help with your homework. And being a Leader is extremely rewarding, too. You can look out for and take care of other pupils. And it's great that you can put it on your CV."
Taking part in Reader Leader has really helped Christine improve with her reading, and she now loves helping others in the library. I think having a place to go at school to help children grow in confidence with reading is such a good thing." – Christine's mum
Want to know more? Read 10 reasons to introduce Reader Leader to your school.