Timetabling your day
One of the most important aspects to a calm and productive day for children learning at home is setting up a structure for your children.  At school, children have a daily timetable that they see every day. It's a great idea to devise a daily timetable – one that can be adapted (see below as a good example). Children can then see what is happening at each intervals of the day including lunch and break time.  If your child is not able to read, draw some simple images to represent 'Literacy' such as a pencil and a notepad.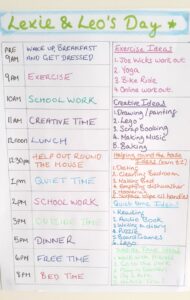 Give children responsibilities
Like monitors in the classroom, give children a few household chores makes them feel part of the home and feel like they are being productive with their time. Learning to take care of their environment will set them up for the future. Start by setting them a daily duty of tidying up toys away and keeping their bedroom tidy.  You can then give tasks out like watering plants, unloading the dishwasher, dusting surfaces or cleaning out pets' litter trays.
Fresh air (where possible) and exercise
As many already know, Joe Wicks daily PE lesson at 9am on his Youtube channel is a big hit with children and parents alike.  If you do have outdoor space, let children get out in the garden and play even if it is cold. Or else, take them for a walk or a light jog around the block.  Fresh air is great for wakening us up and taking in new oxygen.
Setting boundaries
Set your ground rules and boundaries for the day at the start of the day. Try to explain to children that while you are teaching them, you expect them to listen and respond in the way they would at school.  If children are unable to follow your instructions, give them warnings and follow through any sanctions set.  Children need to have clear boundaries – explain what is it they are allowed to do and use and what isn't allowed.  Explain why they can't have two hours on a tablet and why they cannot have 3 biscuits. Saying 'no' or 'because I said so' is not enough.