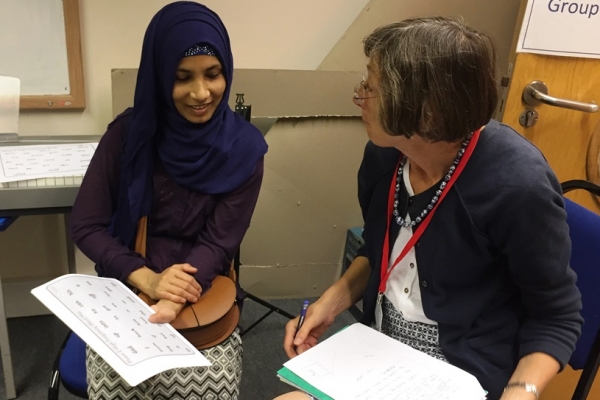 Viv Bradman, Schools Programme Manager for The Children's Literacy Charity, explains why building links with parents is a vital part of our charity's work.
"Learning is a triangle between the home, the school and the child. The more you can do to strengthen the links, the better.
We regularly invite parents into the schools where we work, either to observe their child learning in one of our Literacy Labs or to chat to tutors and see examples of their work as part of a coffee morning.
A parent might then say to their child something like, 'Your tutor was really pleased with your work today.' The child feels a real sense of pride – they realise that it's worth bothering with and try that little bit harder when they are in the Literacy Lab.
And when a parent understands a bit more about what their child is doing, they are twice as like to ask, 'What did you do today at Literacy Lab?' Talking about learning is a big part of teamwork.
We always get the children to write an invitation to their parent. It elevates the importance of learning in the child's mind. And it's hard for a parent to refuse a personal invitation from their child!
At our coffee mornings, we really try to make the parents feel as welcome as possible, providing delicious homemade cakes. We want them to understand that we really value the fact that they've come along. And it's important that they feel relaxed and see us as approachable.
Seeing parents face-to-face provides opportunities to share ideas about how they can support their child at home. For example, at a recent coffee morning at Soho Parish Primary we chatted to one mum from a Bangladeshi background. Her son, Nurul, has recently enjoyed some physical word games. In one game we stick high frequency words to the wall and he has to hit them with a fly swat as they are read out. In another, we have words written on a car park and he has to drive a car to the right word. We shared the ideas for these games with Nurul's mum so she can repeat them with him at home.
The morning also created the opportunity for Nurul's mum to share some of her concerns and suggestions. Nurul is the eldest of three children in her family and, as she and her husband don't speak English fluently, she is concerned that there is no-one to stretch him at home. She asked if he could read with an older child at school to provide him with some extra language support. This is something we are looking into with the school. It's brilliant to get this kind of dialogue going.
We also give parents a booklet with tips on how to help their child enjoy reading. And where possible, we give away a book or two. Choosing a book with their parent feels special and can motivate a child to read."
Read one parent's story of how his child has been supported by our Literacy Lab.