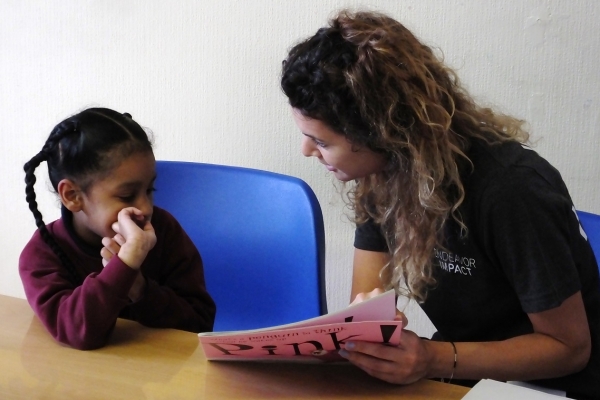 Excitement ran high as a host of famous faces flashed up on the big screen at Oliver Goldsmith Primary School, Camberwell. Among them were The Rock, Rihanna, Adele and Serena Williams. The biggest cheer was for Star Wars actor, John Boyega, a past pupil of the school and an inspiring role model for current students.
The stars were showcased as part of an 'Achieve Your Dreams' assembly presented by visitors from Endeavor, which is made up of talent agency WME and entertainment and events company IMG.
The group – which included a lawyer, an accountant, a concert organiser and a video technician – were visiting as part of a company's Walk The Walk away day hosted by The Children's Literacy Charity.
Pupils were given an eye-opening glimpse into life in the entertainment business, learning about exciting behind-the-scenes roles which involve working closely with stars. Raising aspirations and giving children the confidence to embrace their dreams is key to our charity's work, and we are excited to be partnering with Endeavor to deliver this message.
After the assembly, employees from Endeavor gained insights into some of the literacy challenges faced by children at the school, and in England more widely, with a presentation by our Head of Educational Development, Alex Charalambous.
They also learnt about the specialist one-to-one approach taken by tutors in our Literacy Labs to help children close their literacy gap, and there was a masterclass session on some of the multi-sensory phonics techniques used by tutors in our Literacy Labs.
One of the visitors, Leonora John, said, "I think the concept is really great and should be in more schools. I was especially interested to learn how tutors from the charity help children with English as an Additional Language learn to read."
A highlight of the day was a story-sharing time with pupils at the school who receive support from our Literacy Labs. The visitors read from their favourite children's books, including 'The Tiger Who Came To Tea' by Judith Kerr and 'What's A Penguin To Think When He Wakes Up Pink!' by Lynne Rickards. In the afternoon session, visitors and pupils took part in a drama workshop, working together and thinking creatively to create letter shapes and famous landmarks.
Ellie Marr identified how the away day helped to foster team spirit. She said, "We are a large organisation. The away day gave us the chance to meet colleagues from other offices who we wouldn't know otherwise."
We are so pleased to working with the team from Endeavor and look forward to future collaborations!