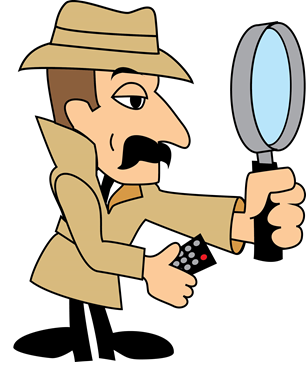 The nights are still dark and gloomy and there's a chill in the air…There's no better excuse to curl up in an armchair with a good book! This week, we've used ze little grey cells, dusted the library for prints and had a good ole' rummage around in our mind palaces to identify the best mysteries for all wily detectives and cunning sleuths to have a crack at. Elementary indeed!
The Detective Dog, Julia Donaldson and Sarah Ogilvie, age range: 3-6
What's it about?: Less Hound of the Baskervilles more perceptive pooch, this book is for young detectives with a softer side. Detective Dog Nell has earned herself quite a reputation about town. Whether it's a shoe or poo, with an amazing way with whiffs, Nell can really smell! This canny canine takes her well-earned breaks listening to children read at the local school. But when the books are stolen, it''s up to Nell to sniff out the culprit. Can she and owner, Peter find them?
Emil and The Detectives, Eric Kastner, age range: 7-10
What's it about?: A chance encounter on a train embroils the precocious but endlessly endearing ten year-old, Emil in a thrilling world of thievery and deception. Fresh out of Neustadt, young Emil is ready to kick the dust off his heels and hit the streets of Berlin…even if that does mean sharing his train with a strange man in a bowler hat, an unlikely compartment compadre and sure-fire shady customer. Forty winks too many later and Emil's carefully guarded money, given to him by his mum,  is missing from his pocket. The man in the carriage must be a thief! Spurred on by injustice (and the thought of having to break the news to his Mum), Emil teams up with a gang of budding juvenile detectives to catch the culprit. Known and loved by many as the original story for debutante detectives, this is a classic that never fails to please.
The Adventures of Tintin, Hergé, age range 7-11
What's it about?: Great blistering barnacles, if you haven't yet read any of the Tintin books, you're in for a treat! A much-loved French icon, curious and intrepid junior reporter, Tintin, and his incomparable nose for a story often sees him hopping across continents, going on adventures and landing himself in a whole heap of trouble! Accompanied by the bluster-blown Captain Haddock, bumbling Professor Calculus, blundering Thompson twins and loyal canine companion, Snowy, Tintin unearths treasures, solves riddles, foils plots and chases bad guys in true Bond-esque fashion. This is a great pick for kids who are intimidated by very text-heavy books, with the trademark zany, snappy comic book style really bringing the action to life!
High Rise Mystery, Sharna Jackson, age range 8-11
What's it about?: Nik and Norva live life on the 22nd floor. Living in the TRI, a run-down tower block in South London in the height of summer was always going to be uncomfortable. But things get even more so when ever-punctual antique dealer and fellow high rise resident, Hugo Knightley-Webb fails to show up for his art class. The only conclusion? Something is very, very wrong. One grizzly discovery later and with evidence pointing  back to their dad, the girls will need all of their nouse to prove his innocence. Can these self-proclaimed 'gut and nut' duo and sleuthy siblings get to the bottom of the most gruesome case committed on TRI turf? Vivid, pacy and fantastically original, Jackson doesn't shirk away from addressing social themes and complexities that surround the TRI and its residents, and the feisty and curious Nik and Norva make this book a winner.
Roman Mysteries Series, Caroline Lawrence, age range 8-11
What's it about?: Flavia Gemina is a pre-teen sleuth with a difference. Clever, cunning and wily, she and her friends, Jonathan, her Judeo-Christian next door neighbour, wise and loyal slave girl, Nubia and stubborn street-boy mute, Lupus must work together to unravel some of Ostia's most curious cases, all the while dodging the slyest slavers, cunning killers and most curious criminals that the Roman Empire has to offer. Whether they're out-running packs of wild dogs, fleeing the fiery wrath of the exploding Vesuvius or fighting it out in colosseums next to gladiators, this motley band of misfits are never far from trouble, with death and disaster, poisoners and plunderers lurking in every corner of The Roman Empire. But wait! If you can't get enough of the gang's adventures, The Roman Mysteries series is made up of 18 different titles- enough to satisfy even the most insatiable detectives!
Happy Half Term!