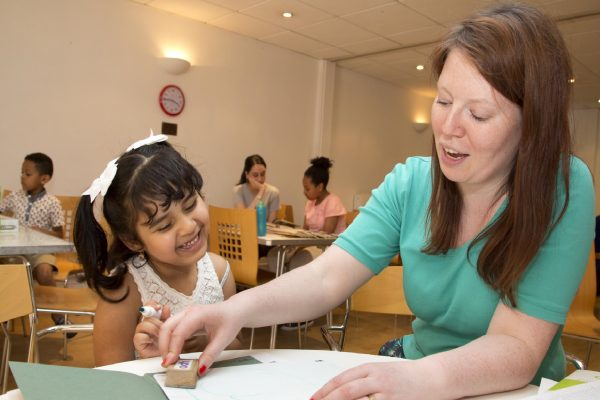 Our Harlesden Lab is at risk of closure because funding is coming to an end in January. We have decided to reach out to our supporters to see if they can help us replace the funding needed for another term.
The new literacy score measure (Nat Literacy Trust 2017) maps places in England with the greatest level of literacy need: central Brent is ranked 96/533 of the highest suffering areas in the country and last year, over 30% of children in Brent did not achieve the expected level of development (including literacy) by the time they started primary school[b][1].[/b]
Children in Brent who are struggling with their literacy skills will be facing a range of barriers and challenges:  last year, an indicative 39% of children we supported through our school-based Literacy Labs were on the SEN register; 46% hadEnglish as an additional language.At our Harlesden Lab, children in need of literacy support benefit from up to 36 weekly sessions (designed to fit alongside the academic 12-week terms, breaking for the holidays). Total capacity is 12 places at any one time. Each child (aged 5-11) needs to commit to a minimum of 12 sessions, but the duration and level of literacy support required varies: from experience, we anticipate 20 children will benefit during the year.
Case Study: Ahmed
"Ahmed started our Harlesden lab when he was in Year 2. On assessment, it was clear that he needed help with spelling and comprehension. His main challenge was focusing his attention on the lesson, and good behaviour. He would get frustrated and impatient. To work together we began by breaking our lesson down into small manageable minutes. We alternated physical activities (stretching and playing) with reading and writing. We turned spelling into a game and tested each other using Hangman in every lesson. It became clear that Ahmed had great capacity for language and literacy. He simply needed repeated, focused, one on one attention to practice and be challenged. Over the weeks, he became more patient, confident and more diligent with the work we did. He responded particularly well to creative writing and books where his imagination could run wilder than the page. We worked with Shaun Tan's wordless beauty of a book The Arrival for a period of time. He responded to the book with his own version of the story, building on it over weeks, and on one of the final weeks of term told me that he and his family had bought the book on the weekend. In his final assessment with us, there was a considerable improvement in his spelling and comprehension scores."
With your help, we will continue to provide a regular, safe and secure environment which enables our tutors to develop strong and lasting relationships with the children. This is essential in helping them to develop the learning behaviours, attitude and confidence to step out of their comfort zone and attempt challenging new tasks that they might otherwise have avoided in the more pressurised environment of their mainstream classrooms.
Click here to make a donation and help save our lab at Harlesden Primary School.
---
[1] DfE Map: Percentage achieving at least expected level across all early learning goals by local authority, 2018