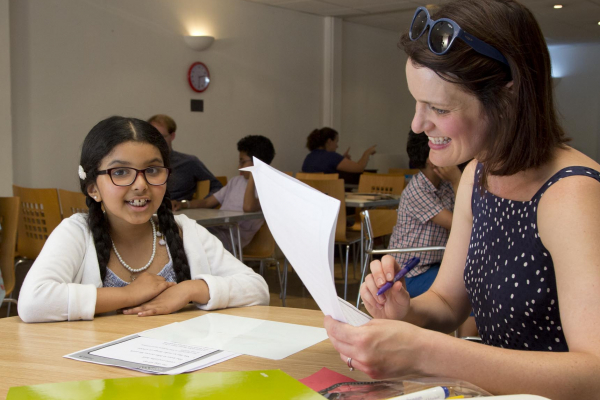 We are delighted to announce the launch of a new Community Literacy Lab supporting children at risk of literacy failure in the London Borough of Brent. With space for 12 children, the Lab helps disadvantaged children improve their literacy during weekly after-school sessions based at Harlesden Primary School.
Doaa Shorheim, Community Programme Coordinator said, "The children who attend our recently launched Community Literacy Lab at Harlesden Primary School are from disadvantaged backgrounds and very often lack the support they need at home. Not only do we offer one-to-one support for each child, we also work hard to build relationships with parents and carers to help involve them in their child's learning."
At each session, our expert tutors work one-to-one with each child to improve their verbal skills, as well as enhancing their reading, writing, spelling and comprehension. Children also spend 30 minutes with one of our highly-trained volunteers, reading stories and playing games, helping to develop their language, strategic thinking and social skills.
Asked about his experience of coming to the Literacy Lab Akye aged 10 said, "It's very creative, there are a lot of things to help with my learning. I want to push myself to the next level." However, the benefits are not only felt by the children and their families, with local volunteer Kate Short commenting, "It's a wonderful opportunity to help children with their literacy while having fun at the same time."
This work has been made possible through funding from National Lottery Awards for All.
Find out more about our Community Literacy Labs and how we can support children with literacy difficulties in your area.