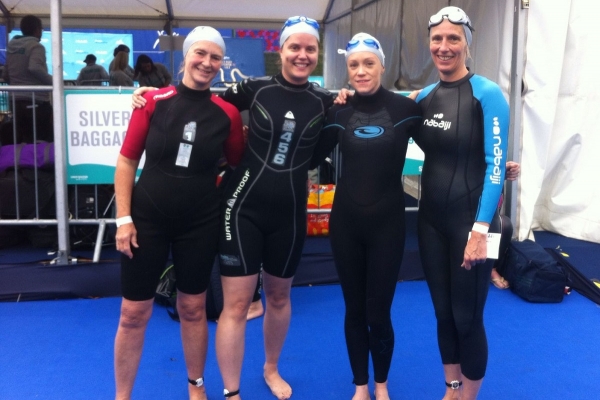 Shivering in our wetsuits in the shadow of a giant psychedelic red, pink and blue sculpture made from 7,506 oil drums alongside 300 other swimmers wearing identical silver hats was a slightly surreal experience.
Taking place in the famous lake at London's Hyde Park, Swim Serpentine has been running since 2016. This year we were lucky enough to have the 'mastaba', created by the artist Christo (known for his outlandish outdoor installations), as a backdrop.
The team from The Children's Literacy Charity was made up from myself (Helen, Communications & Fundraising Officer), Literacy Intervention Tutor Cate and our friends and esteemed co-fundraisers Sarah and Lucy.
We were lining up at the start of the half-mile wave at the eye-wateringly early time of 8.30am on a Saturday morning. Ours was the first wave to take place – over the course of the day over 6,000 swimmers took the Serpentine's murky waters – most clad in wetsuits, some hardy souls opting for swimming costumes alone. The water temperature was, we were informed, a none-too-chilly 16.8 degrees (anything lower than 15 degrees and wetsuits become a must).
Once the klaxon sounded, the real keen bean swimmers dived in. The rest of us shuffled towards the starting line and, more tentatively, made it into the water. Thanks to our swimming hats and an acclimatising dip in the 'dunk zone' prior to the swim, the water temperature didn't seem too bad.
It was then a case of aiming for the inflatable yellow buoys, hanging a right (there were helpful people in kayaks to ensure you didn't swim off in the wrong direction!), swimming down to the Serpentine Bridge, before heading back towards the finish line by the mastaba. Easy.
Well, not exactly. But it was heaps of fun. Along the way there were swooping swans, flashes from cameras strategically positioned around the course to snap you as you streaked/paddled past, and then a volley of whoops and cheers from supporters in the grandstand as you surged/splashed triumphantly along the home straight.
We were then treated to a heavenly soak in a hot tub, before being handed our medals (together with rejuvenating energy bar and commemorative draw-string bag) and directed to the heated changing rooms.
As newcomers to the event, we thoroughly enjoyed it. It was well-organised, there was fantastic atmosphere, and completing the course felt like a real achievement.
We are extremely grateful to everyone who has supported us and helped us raise a phenomenal  £1,200 (and counting!) towards supporting children's literacy needs.
If you'd like to take part next year (and I'd thoroughly recommend it anyone, novices and pros alike – there are a range of distances available), please get in touch with our fundraising team!