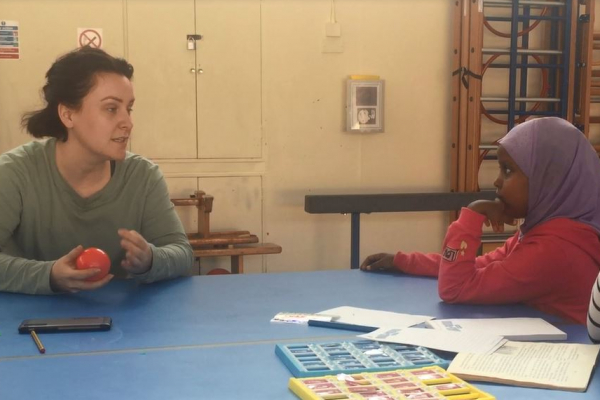 "Televisions are electrical from the computer to the TV."
Amina, eight, is playing a word game with Jennifer, a volunteer at one of our Community Literacy Labs. For each roll of the ball, they take turns to pose a spelling challenge to the other. Then the super-challenge is to use the word in a sentence. Amina is trying to use the word electrical. To help her convey her meaning more clearly, Jennifer asks, "Do you mean you watch television on your computer?" Amina nods.
It's through simple exchanges like this that tutors and volunteers at our Community Literacy Labs are helping to make a huge difference, boosting children's vocabulary and building their understanding. With word power identified as one of the greatest predictors of success in later life, it's vital that children gain confidence early on.
As part of the Big Give Christmas Challenge 2018 (BGCC), we raised funds towards our Community Literacy Lab work in deprived areas, with the goal of helping many more children like Amina to gain a greater facility with language. As well as working on verbal skills, our tutors and volunteers work to enhance children's reading, writing, spelling and comprehension. (Read more about our Community Literacy Labs here).
The BGCC is a match fundraising event, with every £1 donated matched by another £1 from our matching pot. We are pleased to report our official total was £23,585, and are hugely grateful to everyone who donated to our appeal. A special thanks goes to our Camelot Primary School in Peckham and St Gildas' Catholic Junior School in Haringey, who took part in a Readathon where pupils raised money by reading at intervals throughout the day. We are also hugely grateful to corporate supporters, including All3Media, Informa, Kulchur House, Library, Paper Round and Step Teachers. And finally, a big thank you to The Topinambour Trust and The Childhood Trust who supplied us with the funds to be matched.
Behind the scenes in our Community Literacy Labs…
Watch our video of Jennifer and Amina discussing the technicalities of televisions.
Watch our video of one parent explaining the impact of our one-to-one support.