Financial communications consultancy Haggie Partners are one of our newest supporters. Rowena Nelson, operations director, explains how they've been involved: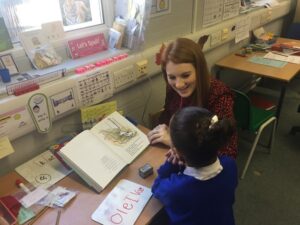 "Given what we do, we knew we wanted to partner with a charity which had some sort of communication link. We carried out a team survey where we suggested three other causes for concern and children's literacy won!
We'd been keen to launch our own corporate social responsibility project for a really long time. We joined the Heart of the City in January in 2017 which kick-started things for us and we knew that the only way we would be able to raise funds was to engage the whole team. We also knew that community and social responsibility projects help enormously towards team engagement. Whilst we are a small and close team already, we find we are so busy concentrating on work we don't make the time for extra-curricular activities. This partnership gives us some brilliant opportunities to have fun outside of the normal work environment.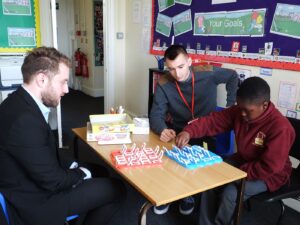 So far, three of our team have visited Oliver Goldsmith Primary School, Camberwell and Heathbrook Primary School, Lambeth, to meet some of the children and the brilliant team who support them. We also held our inaugural fundraising event on 4th September, racing 'from Cornhill to Calais' with our client Capsicum Re on exercise bikes. They turned out to be pretty competitive! We have also taken part in the City Giving cycle event on the 25th September and on 2nd December we'll be taking part in the Santa Run."
Read about Haggie's visit to Oliver Goldsmith Primary School.