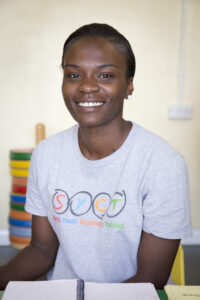 Thanks to funding from The Big Give Christmas Challenge 2017, we've launched a Community Literacy Lab in partnership with SYCT, taking place every Saturday. We caught up with Tanika Hibbert from Streatham Youth and Community Trust  to find out all about it.

How did you get involved with The Children's Literacy Charity?
We found out about The Children's Literacy Charity through our network. There's a real need in this area to encourage literacy so we were really interested in the idea of a Community Literacy Lab. We went along to a couple of primary schools and saw the Literacy Lab in action and decided it was something we'd really like to do.

Why do you think the Community Literacy Lab works so well?
There are so many Saturday clubs which are boring. Children have been at school all week, when it comes to Saturday they want to have fun. What's brilliant about the Community Literacy Lab is that the children get to play games as part of it. And the teaching is really engaging, too. My brother used to go to an afterschool club where he was just sitting in front of a computer. Here, the tutors and volunteers make an effort to get to know the children and build a relationship with them. It makes all the difference.

How do local people hear about the Community Literacy Lab?
We already have good links with the community – during the week we run an after-school session where children can come and play or do their homework. We have known some of the children since they were three. So when the Literacy Lab started, we told them all about it.

How have you seen the children progress in their learning?
A few of the older children who come have been working on their comprehension, reading between the lines to work out the meaning of a text. They've also had lots of practise with their spelling. Sometimes it's a case of reinforcing something they've been learning at school, for example recapping apostrophe rules. During the game time, Scrabble has proven really popular. The children don't realise it, but it's helping them improve their spelling. And it's helped them extend their vocabulary, too. They love learning new words.

What other benefits has the Community Literacy Lab brought?
I've seen the children who come really grow in confidence. There are two girls who really stand out – Sasha and Rania. The first time they came, they were really timid. Now they walk right in and sit down. They love chatting to the grown-ups. It's so important for children to have other grown-ups in their lives, aside from their parents and their teachers, who can be role models to them and really encourage them.
Our Community Literacy Labs rely on the support of volunteers.
Read James's story to find out more.