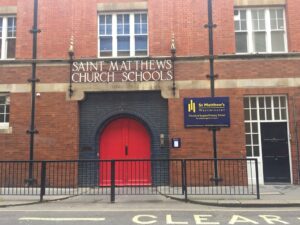 St Matthew's is at the heart of Westminster.
 A tiny china tea-set with teapot, cups, saucers and a milk jug peeps enticingly through the glass window of our Literacy Lab at St Matthew's Primary School, Westminster. Look closely at the teapot and you'll see it bears the face of an infamously uninvited but much delighted in guest – The Tiger Who Came To Tea from the celebrated picture book by Judith Kerr.
At The Children's Literacy Charity, we love to inspire children with the magical possibilities presented by books. And this fact is very much visible at our St Matthew's Literacy Lab. One wall features a display themed around You Choose by Nick Sharratt and Pippa Goodhart, a picture-book favourite where children are offered an array of tantalising choices to make on every page. Whenever a new child enters the Lab, they write down a job that they would like to do, draw a picture and add it to the You Choose display. "It's an easy piece of work for non-writers or early writers and they feel proud to have a piece of work on the wall," explains Jane, our literacy tutor at St Matthew's. "We can then compare future pieces of writing with it to see the progress they have made."
Early writers feel proud to have a piece of work on the wall." – Jane, our tutor at St Matthew's.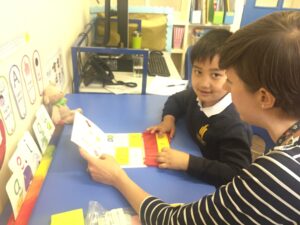 Teaching is multi-sensory.
At the small blue table, there's space for tutor and child to sit side by side. Here, children take part in a variety of hands-on activities, from constructing words using magnetic letters to ordering cut-up sentences and sharing books.
The Songbirds series, authored by the acclaimed Julia Donaldson (The Gruffalo, Stickman, The Scarecrow's Wedding and many more…) is a firm favourite. Linking to phonics patterns, they are told in Donaldson's trademark rhyming style with gentle humour. "Their whacky nature appeals to children with wild imaginations," says Jane.
The small stretch of parquet flooring set in herringbone-style provides a handy space for physical activity – something which the Lab's most energetic occupants really benefit from. "If a child is looking sluggish or sleepy I might help them to wake up with a burst of exercise," says Jane, "Sometimes I link the activity to spelling, for example if they are learning a high frequency word, they say the letter names out loud with each jump – h/a/v/e spells 'have'. Physical exercise can really boost children's learning".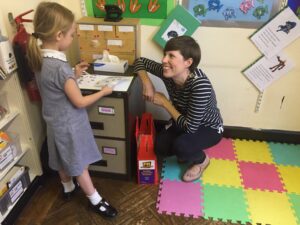 Coloured matting adds cosiness and can be
put to imaginative use.
The Literacy Lab also has an area with squashy coloured matting – a nice place to share a story. It can also be put to imaginative use. "To practise for alien words in phonics, I set the area up as a spaceship with aliens on board," explains Jane. "The child goes and picks an alien and reads his name. Or sometimes I ask a child to lay out words on cards. They read them out and bring them back to the table one at a time. It's great for getting them up and moving about."
Recently, our St Matthew's Literacy Lab played host to a VIP guest… Read all about when Sir Jim Rose came to visit.