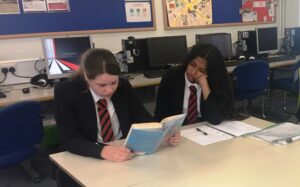 Pairs are encouraged to spread out into a
quiet space.
It's 8.35am on a Tuesday morning. The library is closed to all save a select group of students from Years 7, 9 and 10. These students are part of the Reader Leader scheme, our one-to-one reading intervention where older students support younger students with their reading. The older students are known as Leaders, and the students being supported are the Readers.
Tara, who is aged 15 and in Year 10, explains why she volunteers as a Leader. "When I was younger, I wasn't a very confident reader and I wasn't encouraged to read. Reading is something I've discovered recently for myself and now I really enjoy it," she says. "I wanted to take part so I could help someone else to enjoy it too."
Tara is paired with Lucas, aged 12 and in Year 7. "Working with Tara has helped me to improve my vocabulary – she tells me what the words mean," he says. "It's also helped me with my English lessons. Now I have more ideas for stories."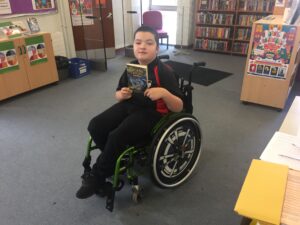 This Reader enjoys reading his Beast Quest book with his Leader.
Now I have more ideas for stories." – Lucas,  Year 7.
Reader Leader has been running at The Knights Templar School since 2013. Nora Evans, who is librarian at the school, explains why the school started the scheme,"We had significant numbers of children joining us in Year 7 who were behind with their reading. By reading once a week for half an hour with another child, children become quicker at it, and they can process information more quickly. All this helps to build their ability to discern meaning, think analytically and develop empathy. This doesn't just help children in the short-term with their school work – it also helps them build important skills for life."
Once everyone has signed in, the students spread out across the library. Each pair has a chosen spot. One pair favours a cosy nook in the corner. Another settles in the comfy area with coloured bean bags. One pair heads for a table off to the side, while the remaining pairs spread across the central tables. To facilitate the session, each pair has a structured plan to follow, which includes an introduction the book and time to ask questions based on the text. Books are opened and a quiet hum descends over the room.
The training makes it official and helps children to take the role seriously." – Nora Evans, librarian.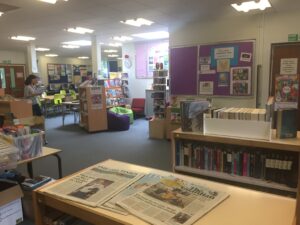 The library provides a calm and private
environment.
As Nora explains, the Readers on the scheme really value the privacy and the quiet of the environment. "It means that they can really concentrate," she says. "At the same time, they are encouraged to see that lots of other people are doing it – reading is seen as something normal."
The scheme is well attended, with both Readers and Leaders turning up promptly and quickly getting stuck in. The fact that each knows the other will be making the effort to get here on time fosters mutual commitment.
All children at the school are assessed by the SENCO on entry to Year 7 and children in need of extra reading support identified. Students in Year 9 and 10 are invited to volunteer as Leaders at the end of the academic year, stating their reason for wanting to take part. They then undergo an introductory training session led by The Children's Literacy Charity.
"The fact that it is another organisation doing the training makes it official and helps children to take the role seriously," says Nora. "The training also helps the children to get to grips with teaching phonics, which is something that we as a school can't teach them."
Ahead of the new school year, Nora encourages the Reader Leaders to read as much as possible in the summer holidays . "I tell them that when it comes to September, they need to be able to say hand on heart that they love reading and are keen to help someone else to love it too," she says. And of course, this has the added benefit of fuelling the Reader Leaders' own love of reading.
If you'd like to introduce Reader Leader to your school, we'd love to hear from you!
Did you know…? The Children's Literacy Charity can provide one-to-one support for children struggling with literacy from a trained tutor. Find out all about our Literacy Labs.