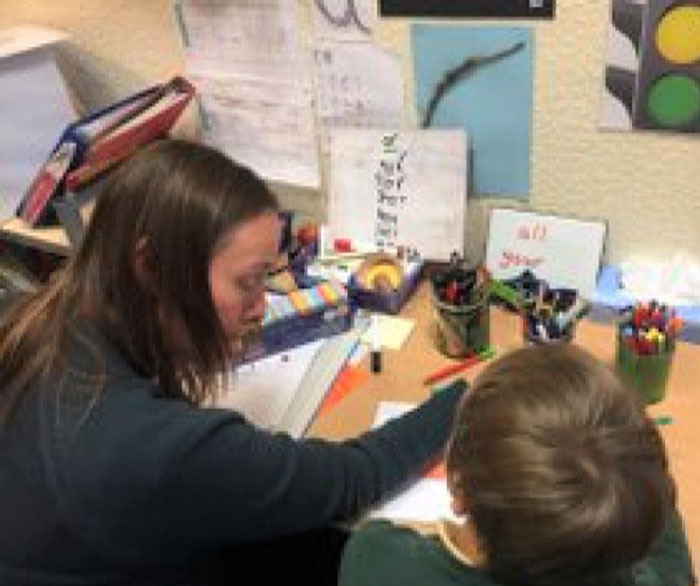 During the summer of 2021, we celebrated 10 years of expert, one-to-one literacy tuition for disadvantaged children at Mauldeth Road Primary School in the Withington area of Manchester.  Over the last 10 years, we have supported 205 children at this school enabling them to progress in their literacy and supporting them with getting back into the classroom.  Andrea Harding, our Senior Literacy Tutor based at Mauldeth Road's Literacy Lab since 2011, has seen many children grow in confidence in their reading and writing skills.  Andrea's own son attended the Literacy Lab many years ago.  
Andrea's passion for supporting children on a one-to-one basis is second to none.  She radiates the moment she begins talking about her role teaching children how to read.  We often see children from the classroom asking to join Andrea in the Literacy Lab.  
Having their own little teaching space means Andrea and Siobhan, the Literacy Tutor, make the space a stimulating learning environment for children to learn at their own pace.  That is the essence of the expert literacy tuition; children's individual needs are met and the relationship between child and tutor ensures children feel comfortable in the knowledge that it's 'okay to make mistakes'.
In Autumn 2020, we saw children make excellent progress.  16 out of 17 children were reading below their chronological age at the start of the programme.  These children had a gap between their reading age and their chronological age within a range of 12 to 39 months.  Of the children we supported during the Autumn term, 16 children narrowed the gap and for 3 children this gap closed entirely.  The average reading age gap at the start of the intervention was 1 year and 10 months; by the last assessment in December 2020, the reading age gap was 1 year and 3 months.  We had similar impact in children's reading comprehension age.
The Headteacher, Andy Kilcoyne and along with the school's SENCO, have been a champion of the Literacy Lab and know how one-to-one support has the biggest impact, "The work The Children's Literacy Charity do is invaluable. It takes time and skill to help close the literacy gap for children who are behind for whatever reason. Bringing in the CLC tutors allows our school to give the children who need it most a vital step up".
Video credit: Bruce Marshall
https://create-video.co.uk/