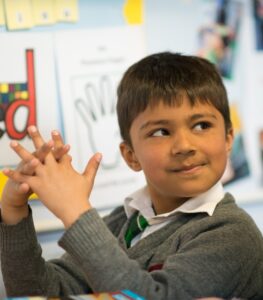 Our Literacy Labs are engaging places. 
Claire Moses is Inclusion Manager at St Mark's C of E Primary School in Lambeth. She explains why our Literacy Lab is a much-valued resource for the school.
"We like that The Children's Literacy Charity's approach is holistic. The assessment conducted by the tutors together with discussions held with class teachers means tutors have a good understanding of the individual child's difficulties. They then plan for the whole child accordingly.
A one-to-one intervention could be boring but with Literacy Lab it is fun and the children love attending (given half the chance, other children who don't have a literacy need would love to attend too!). Children tell their parents about their learning in Literacy Lab and their parents in turn tell others.
The sound knowledge of literacy and strategies to support children who are below age-related expectations makes the intervention successful. The tutors form professional relationships with parents, children and staff.
Children make good progress and this continues after they have graduated from the Literacy Lab."
Find out how to set up a Literacy Lab at your school.