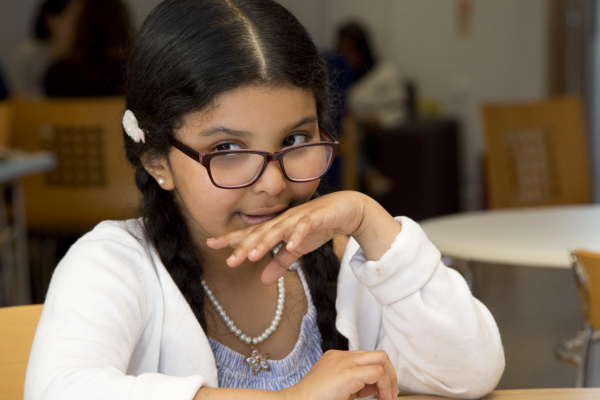 (Image shows a child like Adriana)
Arriving in England from South America, Adriana had a mountain to climb with a new school, country and culture to grasp simultaneously, as her tutor Sam explains…
"When Adriana first started at the Literacy Lab in April 2018 she didn't speak as she couldn't understand what was being said to her. At seven years old her reading level was that of a four-year-old and her comprehension that of a five-year-old. Her writing was untidy, not on the line and with lots of letter reversals. Her inability to understand of course affected her confidence.
After a few months with us she had developed strategies to help her. By using her fingers to count the sounds out in the word, she was able to discriminate between the sounds and associate them with words. Now, she recognises syllables which aids her spelling. It means that reading is more pleasurable for her, and she has a desire to finish the story. Reading is also improving her vocabulary, leading her to be chattier and more confident. Recently, she asked me excitedly whether she could bring a book from her class to the Literacy Lab. The fact she is interested in reading new books and feels confident to ask are really positive signs.
Adriana is a bright and willing learner – you never have to ask her for more, she has a thirst for knowledge and a determination to succeed. Now, when she reads her work to me, she notices mistakes and self-corrects without being prompted, an important skill.  She will be seven soon and now has a reading age of a six-and-a-half-year-old. I met her mother recently and spoke to her via a translator. She was thrilled with her progress. Adriana's teacher informs me that she talks more openly in class, her confidence has grown, and she is more independent in her learning.
Adriana's dream is to become a doctor. I have no doubt that she can achieve this goal.  She will be able to speak two languages and the world will open up for her. She is already half-way up her mountain. I believe that her tenacity and perseverance will get her to the top."
Michael is another child who has gained huge benefits from our Literacy Lab. Read Michael's story.