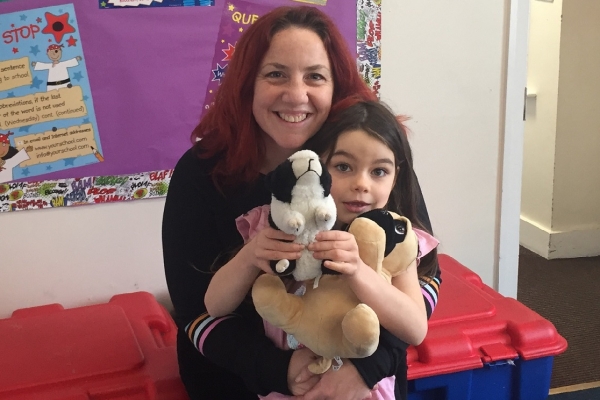 Anna-Maria, daughter Laura, and some cuddly friends.
Anna-Maria, whose daughter Laura, 7, attends our Community Literacy Lab in Peckham.
"When Laura was in Year 1, I noticed that she seemed not to be moving on to more advanced reading books. She also seemed to struggle to pick out the phonic sounds, and she didn't pass the phonic check towards the end of the year. I was concerned to address this as quickly as possible as she seemed to be losing confidence. I looked into what support might be available and that's when I found out about the Community Literacy Lab.
Laura's confidence has increased quite significantly since she started coming. She's engaging more with reading and writing, and she's not so scared as she used to be. She used to try and avoid reading as much as she could and it was quite a struggle. Now she's quite happy to get her book and come and read to me. Confidence is the key thing that I wanted from the Literacy Lab, so I'm very happy."