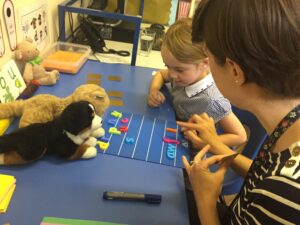 A Year One child being supported in the Literacy Lab at St Matthew's.
The Children's Literacy Charity has been working with St Matthew's Primary School, Westminster, for several years.
Headteacher Rachel Jewitt explains the benefits brought to children at the school:
"Each year, a large proportion of children who enter our school are well below age related expectations in reading and writing.  We begin phonics activities in our Nursery and then have structured phonics teaching in Reception, using a formal teaching programme; this helps us to identify children who need extra literacy support early on in their learning journey. These children are then referred to the Literacy Lab at the start of Year One.
The school Literacy Lab is a well-established part of our school; children (and parents) are excited when they find out they are coming here. Jane, the Literacy Lab tutor, works closely with the children and helps them to further enjoy their learning at school. As well as working with the children in the Lab, she sometimes visits their classroom. We've found this really has an impact in terms of encouraging the children to apply what they've been learning in the Lab to their work in class.
As a school, we do everything we can to get children excited about the world of stories and the imagination. For example, our Year 2 teacher and teaching assistant recently appeared in the playground dressed as Mr and Mrs Twit to inspire literacy learning in the classroom. We celebrate the fact that our children come from lots of different backgrounds and encourage storytelling in different languages. All the work being done in our Literacy Lab fits in with our school's commitment to nurturing children's love of learning."
Find out how we're supporting pupils at St Mark's.