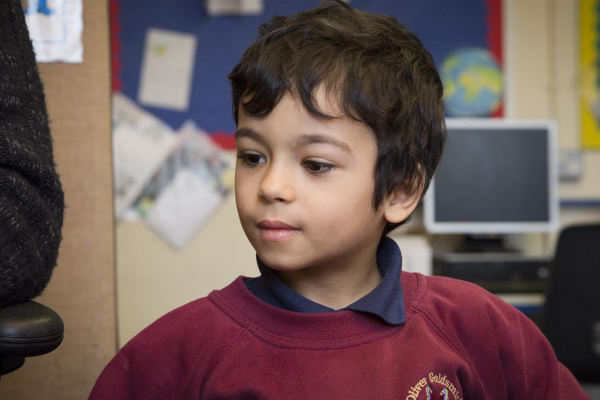 (Image shows a child like Jovito being supported in our Literacy Lab)
For Jovito, who speaks English as an Additional Language (EAL), building vocabulary was key to helping him close his literacy gap, as his tutor Heather explains.
"I don't know the word" was Jovito's regular plea when he joined the Literacy Lab in April 2018 at the age of five. He had recently moved to London from Portugal and was in the early stages of learning English. He therefore found the literacy work in his classroom quite baffling and despite trying hard he would confuse sounds and miss out vowels. His limited vocabulary was making it hard for him to find the right word or compose a simple sentence. Although he was able to read a handful of words such as 'the' and 'is' he was unable to read enough words to register a reading age in our initial assessments.
We worked together throughout the summer term but he was still finding it quite hard to recall all the sounds knowledge needed to read and spell. Alongside the sound work we played lots of games and read stories to develop his language and vocabulary. He loved playing 'Guess Who' but still found it difficult to phrase the questions or use the information without help. At this stage, Jovito had become impatient to improve but a tendency to rush through things further hampered his reading and spelling progress.
As the new academic year started and Jovito moved into Year 2 he was still about 2 years below the expected level for his age. He had also forgotten some of the sounds learned in the summer term. We therefore systematically revised these sounds and soon moved on to new sounds. This time he was acquiring new sounds with more confidence and progress was rapid. Lots of discussion about everything we read together quickly developed his language and vocabulary and for the first time Jovito started to enjoy reading books. At the same time he became less reluctant to write and started to write three or four sentences about a topic. Our games to develop language skills continued and Jovito became a master at playing 'Headbanz' where you need to gather and use information to work out the picture on your head.
By the end of his second term with the Literacy Lab Jovito had made superb progress and caught up with his peers. He said, "I have learned lots of words and lots of spellings. I can now spell 'beautiful'!  I can read everything. I just read a poem about the first Christmas and I really like the rhymes. My teacher is impressed with my learning and that's why I'm 'Star of the Week'."
His teachers were clearly delighted with his progress as he could now read, comprehend and spell at an age appropriate level and this was evident in his classroom work which was now at an expected level. When asked whether they thought he was ready to graduate, the answer was, "Oh yes, Jovito is doing really well in class. It has all fallen into place for him this term and he is leaps ahead of everyone else.  He should definitely graduate." Closely followed by… "Oooo, does that mean you have a free space?"
Donate to our work and help us to transform more young lives through literacy.