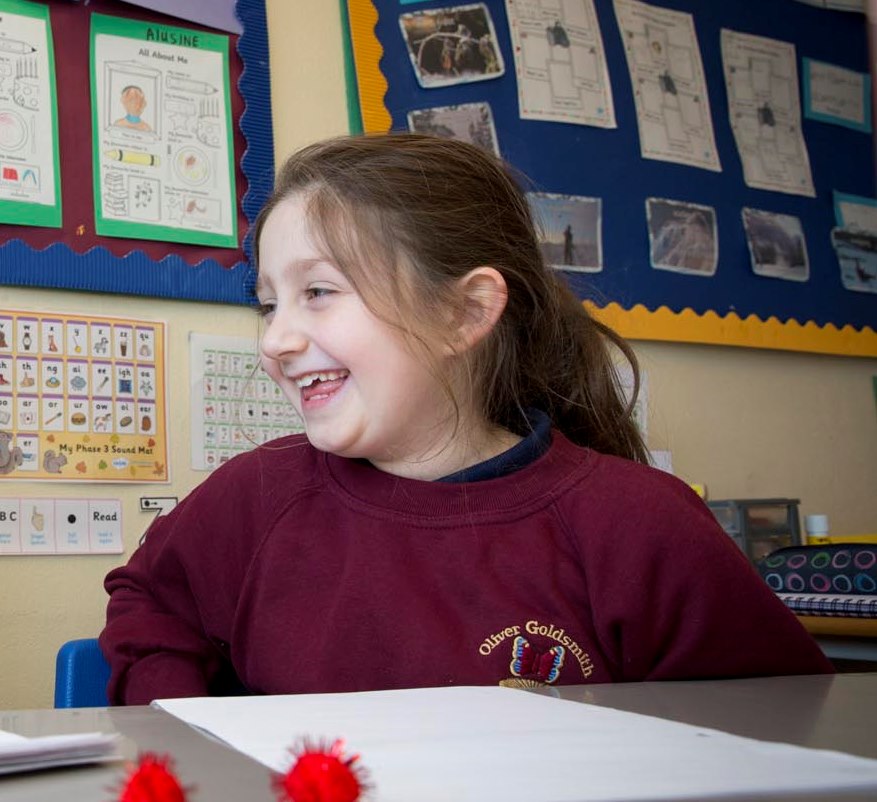 (Image shows a child like Abigail being supported in one of our Literacy Labs)
"Look!" Abigail smiles proudly as she points to her exercise book. She's used the word 'have' in her work in class and has come to show her tutor, Jane. It's a word she learnt with Jane earlier that day during her session in our Literacy Lab. In the short months she's been working with Jane, her literacy has really taken off.
Abigail joined Year 1 at St Matthew's, Westminster in September 2017 as a non-reader and a reluctant writer. She had just moved to London from the north of England where she had been living with her mother. She now lives with her father. She joined our Literacy Lab as soon as a place became available in January 2018.
Although by then she knew some letters and sounds, she could only read very basic texts and lacked confidence when reading aloud. Her handwriting was also a cause for concern. Her teacher gave her a score of 2 out of 5 for her 'willingness to write' on our rating scale. Her letters were an inconsistent size, she found it hard to keep them on the line and she kept swapping hands while writing.
Very quickly, Abigail settled into the Literacy Lab and looked forward to her twice weekly sessions with Jane, with whom she formed a close bond. Over the next few weeks, they worked through a structured phonics programme. Through this regular, one-to-one time, she came on leaps and bounds in her reading. In just one term, she went up one year in her reading age. Her class teacher reported, "She's really passionate about reading now and brings in books from home she wants to read."
Her name was entered in the school's 'Book of Praise' for her progress and read out in a Celebration Assembly. By May, Abigail was able to read all 100 of the first high frequency words from the Letters and Sounds resource. She couldn't believe it and said, "That would take all day!". Her confidence was soaring. As well as becoming an enthusiastic reader, Abigail made huge progress with her handwriting. After about a month of support, she was writing on the line in a neat and legible manner, and had developed a clear preference for her left hand. Her father also noticed the improvement and commented that she now uses her left hand at home, too.
When a sample of Year 1 English book was moderated, one of the school's assistant head teachers singled out Abigail's writing as having shown a vast improvement. During a writing activity with Jane, Abigail herself commented, "I'm starting to love writing now." By July, Abigail was ready to graduate from the Literacy Lab, having caught up with her peers. Giving her support at just the right time has meant that she is right on track.
Discover the 10 ingredients behind the success of our Literacy Labs.