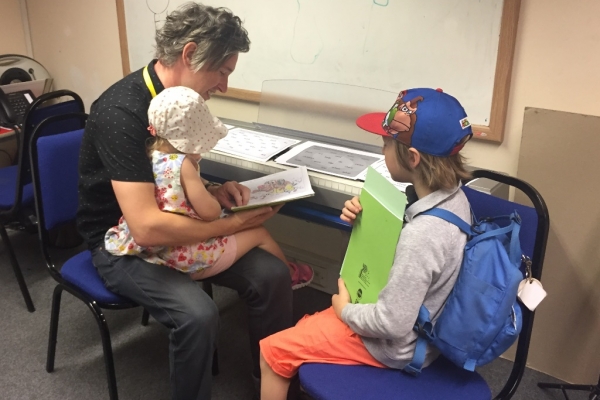 Leo's father and sister looking at his work from our Literacy Lab.
Leo is aged seven and in Year 2 at Soho Parish Primary School. His school referred him to our Literacy Lab at the start of Year 1 when his teacher spotted signs of dyslexia. His father explains the difference attending the Literacy Lab has made…
"Leo is a really active boy. He loves ice hockey and plays it twice a week. He also loves books and illustrations. We read to him every night. He especially likes books by Roald Dahl (with all those amazing Quentin Blake illustrations) and the Dirty Bertie series by David Roberts. Books are something we have shared with him since an early age. His mum is from Finland and we have lots of lovely Scandinavian picture books, like the Moomins and Risto Räppääjä (or Ricky Rapper), a comic series.
However, when it comes to sitting down and reading a book for himself, he can really struggle. Having dyslexia means that reading can take a lot of effort. And he's so energetic that when he's at home he'd rather be off roller-blading in the long corridors of the flats where we live!
Going to the Literacy Lab has been brilliant for Leo as the support is so specialised and he really values the one-to-one time with his tutor. It is also good that the sessions are integrated into the school day. When he's at school he's in 'learning mode' – it's harder for us to sit down and work with him at home when he just wants to unwind.
Since taking part in the Literacy Lab, Leo's literacy has come on leaps and bounds – not just his reading, but his writing and spelling too. I think he'd have been lost without the extra support. At home, he's started taking more of an interest in reading books for himself. We recently bought him an ice-hockey book and he's enjoyed reading bits out of that. He loves learning new things."
Take a peek inside our Literacy Lab at Soho Parish.