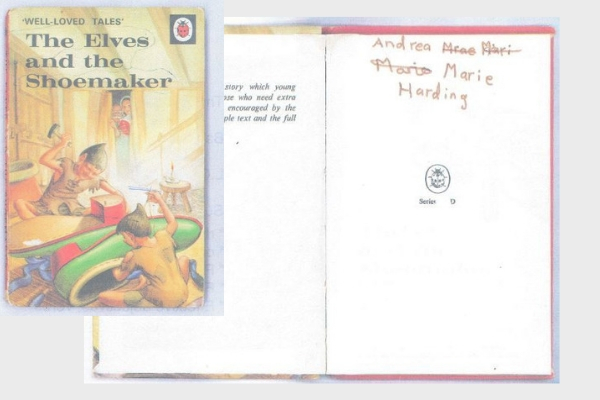 Andrea shows her old storybooks to children. "I explain that I had to learn once too and that my spelling has improved. I tell them it will be easier for them one day, too."
After her son received support from our charity, Andrea decided to volunteer. She now works as a tutor and manages our Literacy Lab at a school in Manchester. She explains why she loves her role. 
"I remember being nervous when I started, and wondering if I'd ever understand phonological awareness! But The Children's Literacy Charity has given me the most amazing training. It's made me really think about how literacy and language work, how we support the children and why things are difficult for some. I now feel very confident in the work I do.
I love that as a tutor I am not tied to a curriculum and that I don't have to work at a prescribed pace. It really is about the needs of each child and their individual difficulties. It is a great responsibility but also very rewarding. Learning in the Literacy Lab is about so much more than testing. Every day you see signs of the difference you are making. For example, a child's confidence improves and they become more willing to have a go, they demonstrate greater understanding in conversation, or their behaviour settles down.
There have been so many stand-out moments. One boy really struggled with reading and getting past sounding out every three-letter word. One day, the head teacher told me he'd seen the boy walking along with The Hobbit under his arm. We loved seeing his new-found confidence and that he could aspire to read such a book!
Another child was a late talker – she didn't talk until the age of five. We did lots of activities focusing on speech and language. One session, we were doing an activity based on a funfair picture with the aim of extending and stimulating vocabulary and recording it accurately. She said, 'I saw a seagull steal my mum's chip. I need to find an apostrophe.' It was such a special moment I wrote it down verbatim in her file!
I've had lots of positive feedback from parents, too. The mother of one boy we were supporting to me her son had been reading to her at home. Her older son suddenly appeared and said, 'No way is that our Luke reading!' That was a lovely thing to hear.
I have brought some of my old storybooks to school which have my name written in. I show these to children and explain that I had to learn once too and that my spelling has improved. I tell them it will be easier for them one day, too.

For anyone thinking of becoming  a tutor, I'd say you need to have patience, resourcefulness , good problem-solving skills, a sense of fun – and the ability to share that with the children. Working one-to-one means you and the child get to know each other and enjoy the time you share. I can honestly say I always love coming to work."
Interested in becoming a tutor with us? Check our current vacancies.