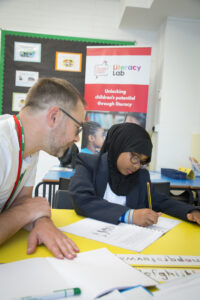 Working as tutor is helping Graham decide
if he wants to go into teaching.
Graham joined The Children's Literacy Charity in May 2017 as a volunteer. He started working as a Literacy Lab tutor in September 2017.
How did you first hear about us?
I attended a volunteer fair in Lewisham and Adam Wisden (one of our Schools Programme Managers) was running a stall at the fair.
What inspired you to work with us?
I had greatly enjoyed my time as a volunteer and had been considering training to be a teacher. I thought that working for The Children's Literacy Charity would give me helpful additional experience and would help me decide whether to go ahead and apply to do teacher training.

What kind of support do you receive from The Children's Literacy Charity?
The Children's Literacy Charity provides a thorough induction and excellent teaching resources. I also receive support from the Senior Literacy Intervention Tutor and the Schools Programme Manager. The Literacy Lab has a great many resources we can use with the children.
What is the best thing about being a tutor?
Working with the children on a one-to-one basis and seeing them improve their literacy.
What about being a tutor has surprised you the most?
It has surprised (and saddened) me how much pressure is put on children and staff in primary schools at the time that the SATs are taking place.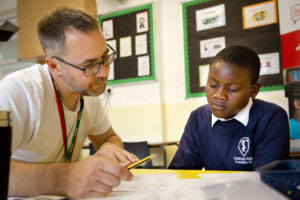 Like all our tutors, Graham tailors each

session to each individual student.

What qualities do you think a tutor needs?

I think the critically important qualities a tutor needs are empathy and patience. Some of the children we work with speak English as an Additional Language and others have Special Educational Needs (such as dyslexia). It is crucial to recognise the individual needs of every child and work at the pace appropriate to every one of them. It's also important to have good time management and organisational skills to ensure lessons are properly planned and children gain the maximum benefits.

What has been your biggest challenge as a tutor?
The greatest challenge came in the first six weeks in the job as both the Senior Literacy Tutor and I were new to the primary school where we were placed and there were so many things to do at the start of the year. It was important to develop a good relationship with key staff at the school (such as the SENCO), to test children nominated by the school to check they would benefit from attending our sessions, to get the Literacy Lab set up properly and plan the initial lessons for the six children I see.

Could you tell us about one child who really stands out?
There's a child I work with who has just turned seven. When she started at the Literacy Lab at the end of September she had a reading and a comprehension age lower than a typical five-year-old (she was unable to read 'my pen is red'), she struggled to hold a pencil and constantly reversed letters when trying to spell words (e.g. 'dog' might be written as 'bog'). When we assessed her in March her reading age had risen to that of a 5.7-year-old and her comprehension had risen to be that of a 6.8-year-old. She rarely reverses letters when spelling now and has a great attitude to learning.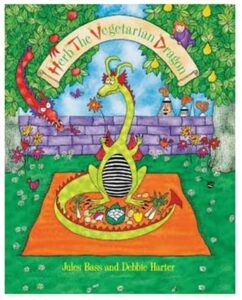 Herb The Vegetarian Dragon
has proven a hit with Graham's students.
Tell us about a book you've recently read with a child or an activity that you've recently done with them. What did the child enjoy about it?
I've recently read Herb, The Vegetarian Dragon (written by Jules Bass and illustrated by Debbie Hunter) to a couple of the children I see. That's been very popular, partly due to wonderfully colourful pictures. For World Book Day the children all worked on devising their own story and drawing a picture of one of their characters. I know several of the children particularly enjoyed drawing the pictures and using glitter to add sparkle to them.
It would be great to hear about any positive feedback you've had from parents and teachers. What encouragements have there been?
We provide written reports on each child to the school SENCO and their class teacher every term, outlining areas of learning covered and the steps we have taken to overcome any barriers. The SENCO at Camelot Primary School and the class teachers of the children I see have all commented on the improvements the children have been making. We have also hosted two coffee mornings for parents to show off the work of their children. Parents have expressed their thanks for the work done and noted the improvements they've seen.
When you were growing up, what were your own experiences like of learning to read? Do you draw on any of these experiences when working with the children?
When I was growing up my dad regularly read bedtime stories to me and my sister and I ensure I regularly read to the children at the end of a session. I also remember how much I struggled with holding a pencil properly and writing when I was six or seven years old and this has helped me empathise with the six- and seven-year-olds I see who find this difficult.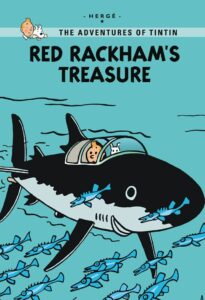 Growing up, Graham loved Tintin.

What was your favourite book as a child? What did you enjoy about it?

It's impossible to pick just one book as I had so many different books I loved at different ages.  When I was under six I loved books by Dr Seuss and aged six to eight years old I remember particularly enjoying the Tintin and Asterix cartoon books and searching them out every time we went to the library. As I got older I enjoyed a lot of what are thought of as the classics, such as books by Roald Dahl (especially Fantastic Mr Fox) and the Swallows And Amazons series by Arthur Ransom. My mother is from the USA and I also loved reading Mark Twain's Huckleberry Finn and Tom Sawyer and the books in the Little House on the Prairie series by Laura Ingalls Wilder.

Are there any children's books that you've discovered recently that you'd recommend?
In addition to Herb The Vegetarian Dragon, I'd recommend Monkey's Magic Pipe by Pat Thomson and The Magic Paintbrush by Liz Miles. Many of the children I work with are under eight years old and these stories have been popular with all of them (I'm sure partly due to the lovely illustrations).

Would you recommend the role of a tutor with The Children's Literacy Charity to someone else? If so, please tell us why…
Absolutely. It's a great opportunity to make a huge difference to children struggling with literacy and it's wonderful to work on a one-to-one basis with children. It's challenging work, but it's great to look back at the progress the children have made and know you've helped make a difference to their lives.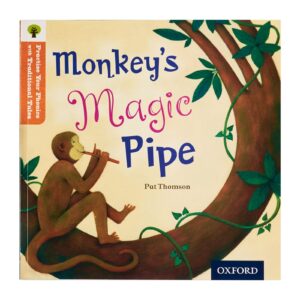 Books with enticing illustrations are some of Graham's best tools.