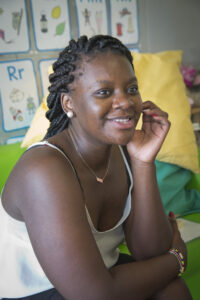 Diane works as a sales executive for an airline. On a Saturday, she volunteers at our Community Literacy Lab in Streatham.

What inspired you to volunteer?
I used to volunteer for a charity that helped send children to school in Cameroon, where literacy levels are low and lots of children don't have access to education. I was born in Cameroon but my family moved to France when I was eight and I came to the UK five years ago to study. I'm really grateful for the opportunities I've had to study and the doors that have opened for me as a result –  education is close to my heart. It's great supporting children around the world, but at the same time I'm really aware that there are children here in London who need help with learning too. I was drawn to the Community Literacy Lab as it involves working with children right on my doorstep.

What do you like about working with children?
It's really fun playing games with them and listening to them read. They might not always have an adult available to support them in this way at home. And the children who come are so smart and funny.

What are the biggest challenges?
Some children can be very sensitive and don't like losing the games. I have to calm them down and explain that it's okay not to win sometimes!

What other benefits come from volunteering?
I've really enjoyed getting to know the other volunteers and tutors. Also, it's nice to do something totally different from my day job.