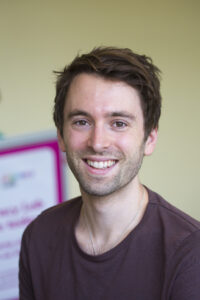 James is a freelance editor. In his spare time, he volunteers at our Community Literacy Lab in Streatham on a Saturday morning.

What inspired you to get involved?
I used to do something similar in the past and really enjoyed it. I've been thinking of going into teaching – two of my grandparents were teachers and my mum manages a nursery – so education is something I'm very aware of. I wanted to gain some practical experience of working with primary school-aged children and this seemed ideal. I also really believe in what the charity stands for in terms of promoting equality of opportunity.

How often do you volunteer?
I volunteer every other Saturday.

What do you enjoy about working with the children?
The children are great – they are so funny and they always ask great questions. It's really rewarding, especially when their session finishes and they don't want to leave. As a volunteer, I play games with the children like Connect Four, Ludo and Guess Who?. It's fascinating to see how differently children approach the games. There's one little boy who really likes to have one-on-one time with me, and enjoys making up his own rules. I really identify with him as I was quite like that as a child. However, I also try and involve him in a larger group so he can see the benefits that come from that.

What have been the most memorable moments?
I really like it when children correct me –  it's really empowering for them. I was playing Connect Four with a girl and she chose yellow. I made a slip of the tongue and said, "Oh, is that your lucky number?" She looked at me strangely and said, "Don't you mean colour?" I think it's really important for children to find out that adults don't know everything and make mistakes too, as that encourages them to keep learning.

What other benefits come from volunteering?
I really like feeling connected to the community where I live. I come from East Yorkshire and I've lived in London for eight years now. I didn't want to feel like I was just getting up in the morning and going to work and back without ever getting to know anyone from my local area. As well as getting to know the children and the parents, I've also enjoyed meeting and chatting to the other staff and volunteers. I definitely feel more connected now.