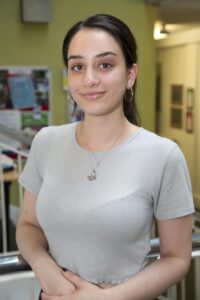 Sixth-form student Tara shares her experiences of volunteering on Saturdays at our Community Literacy Lab at The Abbey Centre, Westminster.
How did you find out about The Children's Literacy Charity?
I was interested in volunteering in my local area and searched online. The opportunity to volunteer at The Abbey Centre came up.
What inspired you to get involved?
The chance to help improve the lives of children – developing literacy skills is so important.
What do you during the session?
As a volunteer, I play games with the children and listen to them read.
What's the best thing about volunteering?
The children have such positive energy. I love coming along each week. They always put me in a good mood! It's also great seeing the change in them week by week as they grow in confidence.
What support have you received?
At the start I received training about phonics, together with tips on how to interact with the children – for example, by always being really encouraging and allowing children to work out answers for themselves. It is also really good working alongside other volunteers and sharing ideas on how to manage behaviour and other things.
Has volunteering helped you with ideas for the future?
My ambition is to study medicine and become a doctor. Through volunteering, I've discovered how much I like working with children. Now I'm thinking of becoming a paediatrician.
What was your favourite book as a child and why?
I really loved the Rainbow Fairies series. I was a girl, they were about fairies – it appealed!