We have been partnering with Informa (a leading business intelligence,  academic publishing, knowledge and events company*) since 2014.  Paul Grayston, who leads the business's Hand In Hand Charity Syndicate, explains why they got involved, how they've helped and the benefits the partnership has brought to the company…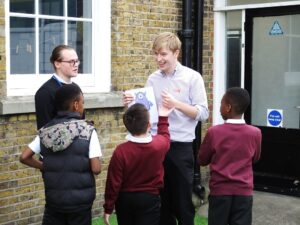 Informa created a phonics-based activity for one of our partner schools.
"We considered a number of different charities and then made a group decision to support The Children's Literacy Charity. The charity's focus on supporting children's literacy skills really appealed to us.  We also liked that the charity was small – we felt we could make more of a difference than if we were working alongside a really big charity.
A large part of the way we help is by analysing children's assessment data at the end of each academic year. This can then be used to demonstrate the impact of the charity's work, for example, by highlighting the number of children who have closed their literacy gap or the difference that has been made to children receiving free school meals or those who speak English as an additional language (EAL).
We've also had the pleasure of visiting schools where children are being supported by the charity. On one occasion, we hosted an outdoor phonics game at St James' CE Primary School in Bermondsey.  This involved students pronouncing sounds and using words in a sentence – alongside a lot of running around. As part of the visit, we also had the chance to share our favourite childhood book, so I was thrilled to read The Twits by Roald Dahl to the students once they were tired out from our outdoor phonics activity.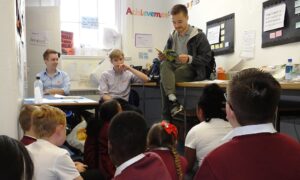 Paul enjoyed sharing The Twits with children.
As a company, we've also hosted fundraising events such as a quiz night and auction. Supporting The Children's Literacy Charity has a helped us to strengthen links across our business. Due to the size and nature of Informa, we are based across several offices in London, and as such there is often little interaction. Leading the Hand in Hand Charity Syndicate has afforded me the opportunity to meet, learn from and socialise with colleagues across the business which has been really rewarding."
To stay up to date with all our latest happenings, sign up to our newsletter!
*'Informa is a leading business intelligence, academic publishing, knowledge and events business that provides products, services, intelligence and connections to specialist communities worldwide.'