Reader Leader has a dual benefit, offering both sets of students the chance to develop their reading ability through working on reading comprehension and vocabulary development.  Our full day Reader Leader training can be delivered online, giving students the necessary information, strategies and confidence to successfully support their younger peers.   This includes understanding why some students struggle with reading; the reading process; information on phonics; how to carry out a peer-to-peer reading session and a practice run of a session. Students need to be in pairs during the session.
"The Reader Leader programme has been tried and tested at our school over a number of years. It equips the trained students to confidently and purposefully support the readers with reading skills. I highly recommend it!"  Nora Evans, School Librarian, The Knights Templar School, Hertfordshire.
Training is for ten students online. Additional interested staff – librarians, learning support assistants – can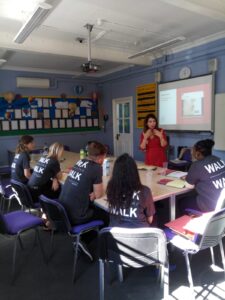 also attend to make the most of the training and give them the knowledge to facilitate future sessions.
Ahead of the training, all Leaders will be sent a Reader Leader folder containing the presentation slides, handouts, resources and a Reader Leader pin badge. A certificate is sent post-training to be presented in an assembly. We provide you with all of the training materials, resources and slides on a USB stick so that you can expand the numbers of Readers and Leaders and continue to manage your project year on year.
Read our 'Ten reasons to introduce Reader Leader in your school'.
For the full day of training, all materials and resources, the cost is £600. If you would like to book the training, please email us directly and we can liaise with available dates: info@theclc.org.uk.