Dr Seuss's Green Eggs and Ham, cupcake phonics and an intriguing Tummy Ache game were all on the menu at our Literacy Lab at Oliver Goldsmith Primary School, Southwark. The activities were enjoyed by children and guests from City-based financial communications firm Haggie Partners alike. Even the Tummy Ache game went down a treat!
We are pleased to announce that Haggie Partners have chosen to support the work of The Children's Literacy Charity. The visit, which took place on 17th May 2018, was designed to give employees a taste for how we help primary age children who are struggling with their literacy skills, including reading, writing, speaking and listening.
As part of the session, our three visitors were shown around the Literacy Lab at Oliver Goldsmith, located on the school's top floor, by our senior tutor Jose. The Literacy Lab is the space where our one-to-one reading interventions take place. As well as cosy reading areas, there is a range of eye-catching displays including everything from written work inspired by Star Wars actor John Boyega, a past pupil of the school, and a world map showing the countries that are important to the children who attend the Lab.
Jose explained, "We want to make the Literacy Lab feel like a fun place that belongs to the children who come here."
[one_fourth]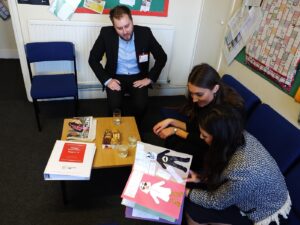 [/one_fourth][three_fourth_last]
Following the tour, our guests joined individual children for their 45-minute Literacy Lab sessions, observing tutors and joining in with stories and games.
Emily Murphy, who is a senior account executive for Haggie, joined a six-year-old girl. She said, "I was struck by how confident she was. She was reading a book about different jobs and decided that she wanted to be a pilot. It's great to think that with the support of The Children's Literacy Charity that one day she could get there."
Emily Sharpe, an account executive, added, "I loved reading as a child. I'm excited that we, as a company, will be helping children to develop this important skill."[/three_fourth_last]
[one_fourth]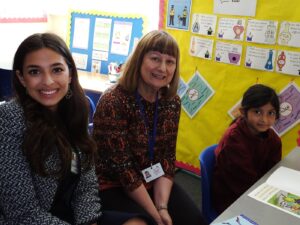 [/one_fourth][three_fourth_last]
Our tutors tailor each session to each child's needs, supporting them as they work towards personal targets. For World Cup season, our tutors at Oliver Goldsmith have created a football-themed wall display where children will be able to place a football in their goal every time they achieve a target.
Gavin Warren, who is the design director at Haggie, said, "The boy I was sitting with was working on knowing the letter names for vowels and not just the sounds. His tutor said that if he remembers them confidently next session he'll be able to put a ball in the goal. He seemed very excited by the prospect of this – the chart is definitely helping him to stay motivated."
And for Gavin, and the wider team at Haggie, the prospect of supporting the children at our Literacy Labs is a brilliant source of motivation to get active through a series of upcoming fundraising challenges. The team will also help to boost children's passion for writing through a pen pal scheme, writing and receiving regular letters.[/three_fourth_last]
[one_fourth]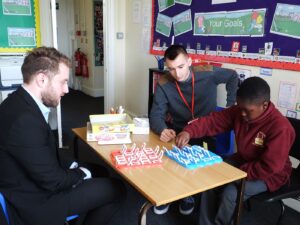 [/one_fourth][three_fourth_last]
We are very much looking forward to working with Haggie and welcoming more members of their team to our Literacy Labs. We are excited to see what the coming weeks and months will bring!
Find out more about our corporate partnerships.
[/three_fourth_last]