If you're passionate about helping children to improve their literacy skills and become confident individuals, then read on…
How does volunteering at a Community Literacy Lab work?
Our Community Literacy Labs are divided up into two parts. Children spend 30 minutes working one-to-one with their literacy tutor to address their identified literacy needs. This is the more formal part of the session. They also spend 30 minutes with a volunteer, reading stories and sharing games. Through interacting with children, our volunteers help children to practise their literacy skills in a more relaxed way. Not only that, they also help to promote the development of social skills. All this goes towards helping children to gain confidence and enjoy learning.
What qualities are you looking for?
Empathy is key. Our volunteers need to be able to quickly tune in to a child and respond to their needs and mood. Similarly, our volunteers play a vital part in building bridges with parents, helping to create a warm and friendly atmosphere for all. Other than that, we ask that our volunteers be patient, reliable and willing to have a go. The rest we can teach you!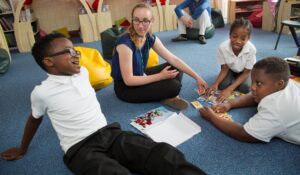 What kind of training/support do you provide?
All our volunteers are trained in phonics, the method by which children learn to read in school. In addition, you will be given training in how to lead a supported reading session, including how to model good reading behaviours and support comprehension skills and the development of vocabulary. We will also ensure you are trained in safeguarding and offer advice in how to deal with challenging behaviour. New volunteers are paired with a more experienced volunteer to start with and you'll also have the chance to observe a tutor to give you a sense of what goes on in the formal teaching time.  In our Community Literacy Labs, we work together as one big team. They'll always be someone on hand to ask if you need help or advice.
What is the level of commitment?
We ask our volunteers to commit to volunteering a minimum of once a month during school term-time, but you are welcome to do more. Sessions take place either on a Saturday morning or afternoon, or after school during term-time. They last around two and a half hours.
Can I try out my own ideas?
Absolutely – we love it when our volunteers suggest new activities and ways of doing things. For example, in one of our Community Literacy Labs, two of our volunteers noticed that the children really liked anagrams. So they came up with some of their own based around the countries of the world. The children then solved them using a globe to help them. So if you think of something the children might like, we're always happy to hear!
For further details, please download our:
We are currently recruiting for weekly volunteers to support our children with playing games in a primary school in Harlesden, London NW10 on Tuesdays 2.30 pm– 5.00pm and/or on Saturday afternoons in Westminster, SW1.